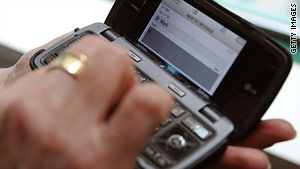 Most of us have heard the dangers of driving while texting or talking on a cell phone, but we do it anyway.   That is, until we personally know someone who has been injured or killed by a distracted driver. 
      There are lots of statistics showing the number of people killed or injured by distracted drivers, but sometimes seeing a bunch of numbers can fall flat and the numbers can lose their meaning.  To have a real impact, people need to see real life situations of sons, daughters, sisters, brothers, mothers or fathers killed or injured by a distracted driver. 
The website www.distraction.gov lets you see the faces of people whose lives have been permanently altered because of distracted drivers.  I urge everyone to go to this website, click the faces tab, and listen to each story.  Each situation is similar in that someone was killed as a result of a distracted driver, but each one is also very different.  You will not be able to watch these without believing that no one should be driving while texting or talking on the phone. 
As a lawyer who represents people injured in auto and trucking accidents in Georgia, I've seen firsthand how  families can be devastated by a terrible irresponsible decision by a reckless driver, or by companies allowing truck drivers to drive without regard for the rules of the road.  Having seen such tragedy and being the father of two young boys, I want to do whatever I can to try to make our roads safer for my family and for others.  Please take a moment to visit this site.